Scientific Advisory Board
Dr. Geoffrey I. Shapiro, M.D. / PhD
Dr. Shapiro received his PhD in 1987 and his MD in 1988 from Cornell University, followed by postgraduate training in internal medicine at Beth Israel Hospital, Boston, where he served as chief medical resident. He completed a fellowship in medical oncology at Dana-Farber Cancer Institute, during which he investigated the role of cell-cycle-related proteins in lung cancer. He joined the Dana-Farber faculty in 1994. He is currently an Associate Professor of Medicine at Harvard Medical School and the Dana-Farber. He serves as the Director of the Early Drug Development Center, where Phase 1 and proof-of-mechanism trials are conducted. He is also a member of Dana-Farber's Thoracic Oncology Program and a member of the Dana-Farber/Harvard Cancer Center SPORE (Specialized Program of Research Excellence) in Lung Cancer.
Dr. Bruce Johnson, M.D.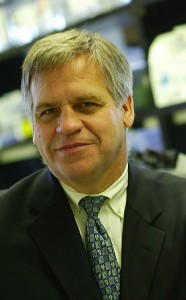 Chief Clinical Research Officer, Dana Farber Cancer Institute. Dr. Johnson received his MD from the University of Minnesota in 1979 and his postgraduate training at the University of Chicago and the National Cancer Institute. After serving at NCI, where he most recently headed the Lung Cancer Biology Section, he joined DFCI in 1999.
He currently directs the Dana-Farber/Partners CancerCare Thoracic Oncology Program, a cooperative effort that includes DFCI, Brigham and Women's Hospital, and Massachusetts General Hospital.
Dr. Ethan Dmitrovsky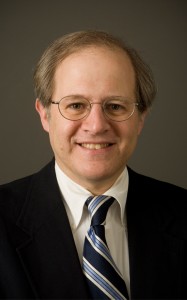 Provost and Executive Vice President of the MD Anderson Cancer Center. Dr. Dmitrovsky graduated from Harvard College and Cornell University Medical College. He completed an internal medicine residency at New York Hospital-Memorial Sloan-Kettering Cancer Center and a fellowship at the National Cancer Institute. Dr. Dmitrovsky was on the faculty at Memorial Sloan-Kettering Cancer Center for more than a decade before joining Dartmouth as the Andrew G. Wallace Professor and chair of the Pharmacology department. He served a decade as chair of the Pharmacology department and completed a term as Acting Dean of the Dartmouth Medical School. Dr. Dmitrovsky serves on several editorial boards including Cancer Research, Clinical Cancer Research, Molecular Cancer Therapeutics, Cancer Prevention Research, and the Journal of the National Cancer Institute. Dr. Dmitrovsky and serves on scientific advisory boards, including the Board of Scientific Counselors of the National Cancer Institute and the Lance Armstrong Foundation. He testified before the President's Cancer Panel about overcoming barriers to translational research and now serves as chair of the Board of Scientific Counselors of the National Cancer Institute for Clinical Sciences and Epidemiology. Dr. Dmitrovsky is an American Cancer Society Clinical Research Professor and conducts bidirectional translational research.
David P. Carbone, MD / PhD Professor of Medicine, Director, James Thoracic Center – Ohio State University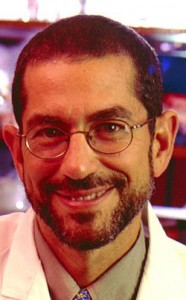 David Carbone graduated summa cum laude from Amherst College in 1977 and received an MD and a PhD in Molecular Biology and Genetics at Johns Hopkins University in 1985. He then did an Internal Medicine internship and residency at The Johns Hopkins Hospital through 1988 followed by a Medical Oncology fellowship at the National Cancer Institute in Bethesda, MD. In 1991 he was appointed Assistant Professor at the University of Texas Southwestern Medical Center and was promoted to Associate Professor with tenure in 1995. He was recruited to Vanderbilt University in 1996 where he was promoted to full Professor in 1998. He is currently Professor of Medicine, Cell Biology, and Cancer Biology at the Vanderbilt University Medical Center and Director of the Thoracic/Head and Neck Cancer Program at the Vanderbilt-Ingram Cancer Center. He is also Director and Principal Investigator of the Vanderbilt Specialized Program of Research Excellence (SPORE) in Lung Cancer and the Strategic Partnering to Evaluate Cancer Signatures UO1 consortium. His research interests, grant support and publications have been focused on lung cancer, and specifically proteomic and expression array signature development, lung cancer genetics, cancer immunotherapy, tumor-associated immunosuppression mechanisms and gene therapy. Recent research directions include molecular profiling of lung cancers and preneoplasias, especially the use of mass spectrometry-based proteomics. He as over 150 peer-reviewed publications and review articles, has served on several NCI grant review panels, including the clinical program project parent committee, and has continuous NCI funding since early in his career. He has served on organizing committees for both ASCO and AACR and the Board of Scientific Counselors for the NCI, is currently Chair of the Lung Biology subcommittee for the Eastern Cooperative Oncology Group and on the Board of Directors of the International Association for the Study of Lung Cancer (IASLC).
Dr. Takeshi Shimamura, PhD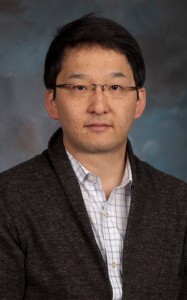 Dr. Shimamura received his Ph.D. from Western Michigan University, Kalamazoo Michigan. Dr. Shimamura's postdoctoral work was conducted in the laboratory of Dr. Geoffrey I. Shapiro at the Dana-Farber Cancer Institute from 2004 to 2008, where he studied targeted-therapies and resistance mechanisms in the treatment for non-small cell lung cancer (NSCLC). In 2008, he was promoted to an Instructor in Medicine at Dana-Farber Cancer Institute. Following his active participation in Dana-Farber/Harvard Cancer Center Lung SPORE program, he joined the faculty of the Oncology Institute at Loyola University of Chicago Stritch School of Medicine in late 2011. His primary research interest is in the area of signaling pathways of NSCLC and small-cell lung cancer (SCLC) undergoing epithelial to mesenchymal transition (EMT). He now serves as a mentor for many graduate and medical school students who want to pursue careers in lung cancer research.
Dr. H. Dean Hosgood, III, PhD MPH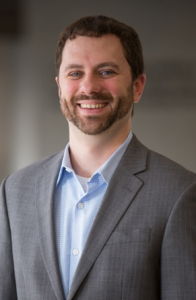 Dr. Hosgood was recruited to the Albert Einstein College of Medicine in May 2012, after being a Post-Doctoral Fellow and Research Fellow at the National Cancer Institute (NCI), in the Occupational and Environmental Epidemiology Branch of the Division of Cancer Epidemiology and Genetics. Throughout his transition from the NIH-Intramural system to the extramural system at Einstein, he has continued his productive research career, which is focused primarily on cancer susceptibility in populations with unique exposures.
Dr. Hosgood's main research has focused on inter-individual variations of cancer susceptibility associated with environmental (and occupational) exposures. To accomplish this, he utilizes advanced molecular epidemiological methods that integrate cutting edge environmental exposure assessment data with biomarkers of susceptibility (i.e., genetic data) to elucidate the complex mechanisms underlying tumorigenesis. He is involved in several consortia and large-scale case-control and cohort studies evaluating the risk factors of lung cancer. His research has led to over 60 peer-reviewed publications to date.
Dr. Hosgood's research includes populations who are at higher risk for lung cancer relative to the general population. He has worked extensively on lung cancer among never smokers, which is etiologically and genetically distinct from lung cancer attributed to tobacco smoking. He has expanded on experimental and epidemiological evidence that genetic variation and other intermediate endpoint biomarkers (i.e., microbiome, telomere length, mitochondrial DNA copy number) influence lung cancer susceptibility in populations with exposure to combustion-derived byproducts from solid fuel use (i.e. coal and wood for heating). He is also researching the modification of the National Lung Screening Trial (NLST) guidelines to additional populations who are at high risk of developing lung cancer but do not meet the NLST eligibility criteria. Dr. Hosgood's research seeks to provide novel insights for environmental carcinogenesis research, as well as that of the etiology of never smoking lung cancer, which is the 6th leading cause of cancer deaths in the United States.